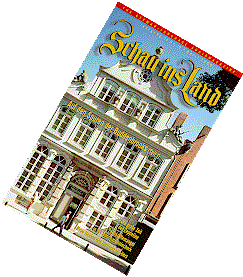 Champs-Elysées audiomagazines

"Schau ins Land", the audiomagazine for intermediate to advanced speakers of German and those interested in German lifestyle, culture and travel.


Each monthly audiomagazine consists of an hour-long programmme in German on audio cassette or CD, containing news, features and interviews reflecting what's going on in Germany, Austria and Switzerland. The tennis stars Boris Becker and Steffi Graf, the politicians Helmut Kohl, Hans Dietrich Genscher, Gerhard Schroeder and Oskar Lafontaine and the entertainer Herman Van Veen are among the fascinating people who have been profiled in "Schau ins Land". Recent highlights include an interview with the ice-skater Katarina Witt, a visit to Stralsund on the Baltic coast, a look at the German healthcare system, a profile of composer Richard Strauss, and a feature on the disappearing art of making Gamsbärte (and you'll find out what Gamsbärte are!).

A booklet containing a word-for-word transcript and an extensive glossary accompanies the audio component. In addition to translations into English of difficult words and phrases, the glossaries contain extensive biographical, historical, political and cultural notes prepared by experienced editors, many of whom also write for some of the world's most prestigious newspapers and magazines. An optional study supplement with listening exercises and grammar drills is also available in each issue.