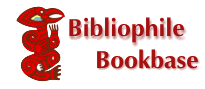 Buy this book on-line
Lars, Claudia : TIERRA DE INFANCIA. Prologo de Eduardo Mayora
San Salvador, El Salvador: Ministerio de Cultura, Departmento Editorial, (1958)., (1958).

- Octavo, softcover bound in decorative tan & brown wraps titled in black on the spine with a printed paper label on the front wrap. The binding is very lightly rubbed, bumped & soiled. The top 1-1/2 inches of the front wrap is detached & there is a light crease to its bottom edge. 205 & [3] pages plus colophon. Very good.

First edition.

A remarkable association copy. The book is inscribed by Claudia Lars to the great master of Salvadoran literature Salarrue, using the name of his alter ego Euralas Sagatara, and with a reference to his famous book of tales "O'Yarkandal". The book is inscribed by the poet on the half-title in the year of publication and the inscription reads: "Para Eur-Alas-Sagatara, contador de los mas lindos cuentos de America, y para Namira, del pais de Oyar-Kandal, con el eterno amor de Claudia / Navidad de 1958".

Salvadoran poet Claudia Lars [1899-1974] was born in Armenia, El Salvador, as Carmen Brannon Vega, daughter of Peter Patrick Brannon and Carmen Vega Zelayandia. In addition to this memoir of her childhood [translated as "Land of Childhood", Writers Club Press, 2003], she wrote fourteen books of poetry, among them "Estrellas en el Pozo" [1934], "Girasol" [1961], "Sobre el Angel y el Hombre" [1962] and "Poesia Ultima" [1972]., Very good



Lars, Claudia : TIERRA DE INFANCIA. Prologo de Eduardo Mayora is listed for sale on Bibliophile Bookbase by Blue Mountain Books & Manuscripts, Ltd..

Click here for full details of this book, to ask a question or to buy it on-line.

Bibliophile Bookbase probably offers multiple copies of Lars, Claudia : TIERRA DE INFANCIA. Prologo de Eduardo Mayora. Click here to select from a complete list of available copies of this book.

Bibliophile Bookbase lists over 5 million books, maps and prints including first editions, atlases, livres d'occasion, antiquarian books and livres illustrées.