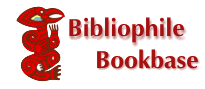 Buy this book on-line
ACKROYD**, PETER: : THE PLATO PAPERS - A NOVEL. [Author SIGNED copy.**]
LONDON.CHATTO & WINDUS,1999.

ISBN 1856197018.

UK,8vo HB+protected dw/dj,author SIGNED+dated, 1st edn.FINE/FINE.Author's handwritten,black ink signature and date [1,April,1999] to title page below his name.No owner inscrptn,and no price-clip to protected dw/dj.UK,8vo HB+dw/dj,1st edn, 3-138pp [paginated] includes half-title+title pages,pale pink endpapers. Set 2,000 years in the future,Peter Ackroyd's imaginative new novel is by turns lively and surprising.Plato,the orator,summons the citizens of London on ritual occasions to impart the ancient history of their city.He dwells particularly on the unhappy era of Mouldwarp (AD 1500 - 2300),which existed before the dimming of the stars and the burning of the machines.He lectures upon the Origin of Species by the nineteenth-century novelist Charles Dickens and upon the pantomimimic routines of Sigmund Freud. He even provides a glossary of twentieth-century terms,and explains such early myths of creation as 'super-string theory' and 'relativity'.But then something happens.He has a dream,or a vision,or he goes on a real journey - opinions are divided - and enters a vast underground cavern, where citizens of Mouldwarp London still live. When Plato returns with stories of this lost world he is put on trial for corrupting the youth by means of lies and fables,since his words have spread consternation among them.Are their lives part of some greater reality? And,if they learn to doubt,perhaps they will be able to recognise a truth beyond that of their own world.All will depend upon the judgement of Plato by his fellow citizens. Want more Peter ACKROYD titles? Please check either my SIGNED,BIOGRAPHY,MODERN FIRSTS2,1001 Books You Must Read Before You Die,and GENERAL catalogues for other and similar,SIGNED and unsigned titles. Want more DICKENS-related titles? For similar and other available titles use keywords q52_Charles Dickens - or please search my BIOGRAPHY,GENERAL and SIGNED catalogues. Please contact seller,because of the value of this item,for correct,insured shipping/P+p quotes - particularly ALL overseas buyers - BEFORE ordering through the order page! N.B. ALL buyers please note,that stocks' actual shipping/P+p costs are adjusted and any difference is refunded,after order's receipt and before the order's despatch,especially if the item(s) are offered either P+p included/FREE. ** N.B. US/Canada customers please be aware: Standard AIRMAIL postage from UK to these destinations can now cost more than the price of any inexpensive book! If speed is not of the essence,then Economy rate is recommended - at approx. anything from a 1/3rd to 1/2 of the standard US AIR quote/rate - sometimes arriving sooner than the 42 days - but not always. **

UK,8vo HB+dw/dj,SIGNED+dated,1st edn.
Author's signature + 1,April,1999.


ACKROYD**, PETER: : THE PLATO PAPERS - A NOVEL. [Author SIGNED copy.**] is listed for sale on Bibliophile Bookbase by R. J. A. PAXTON-DENNY.

Click here for full details of this book, to ask a question or to buy it on-line.

Bibliophile Bookbase probably offers multiple copies of ACKROYD**, PETER: : THE PLATO PAPERS - A NOVEL. [Author SIGNED copy.**]. Click here to select from a complete list of available copies of this book.

Bibliophile Bookbase lists over 5 million books, maps and prints including collectables, libri rari, first editions, fine bindings and out-of-print books.